By William "Bill" Murray, National Coffee Association President & CEO
---
The world of coffee has never been more complex – which is why having consistent, transparent data about coffee drinkers is crucial for your coffee business.
We've just released the Spring 2022 survey of U.S. coffee drinkers, the latest addition to NCA's legendary coffee trends research, the NCDT – National Coffee Data Trends – with important findings about the rapidly changing consumer landscape.
But it isn't only the data that is new: Last year we also introduced a new online interactive data and visualization platform, which allows subscribers to NCA research to run custom reports on the vast datasets contained in the NCDT report.
The Spring 2022 NCDT report is now available for purchase, and key highlights include:
1. Nationwide coffee consumption is at a two-decade high. 66% of Americans reported that they had consumed coffee within the past day. This is up a staggering 14% since January 2021 – the largest year-on-year increase we have seen since we began gathering data.
2. The COVID-19 pandemic continues to impact Americans' coffee drinking habits. While 27% of coffee lovers (up 8% from January 2021) are venturing out of home for their brew more frequently, out of home coffee consumption still has not returned to pre-pandemic levels. In addition, we found that at-home coffee consumption remains elevated; 84% of Americans had coffee at home in the past day, up from 4% in January 2020.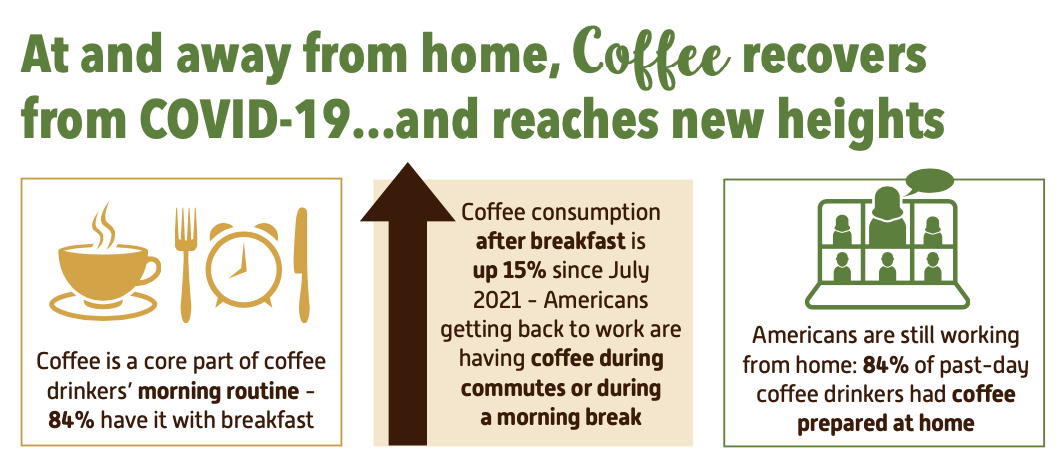 3. The popularity of specialty coffee is at a five-year high. 43% of American coffee drinkers chose a specialty brew in the last day – up by 20% from January 2021. Learn more about specialty coffee in our new, free-to-download specialty coffee breakout report, produced with the support of the Specialty Coffee Association.
4. Americans love espresso-based beverages. Cappuccinos and lattes are tied for the most popular espresso-based drinks nationally, followed closely by plain espresso and café mocha.

As the country begins to emerge from the worst public health crisis in recent memory, it is only fitting that coffee — backed by decades of independent scientific evidence showing its unique health benefits — is more popular than ever.
Industry leaders are telling me, over and again, that they have never seen a more complicated, challenging business environment. Our motto here at NCA is "We Serve Coffee" – whether by providing accurate market data, championing fact-based regulation, or celebrating the science of coffee and health. I invite you to acquire our latest market research, as well as learn how joining the NCA can support the strength and success of your coffee business.
NCA: We Serve Coffee.
Not sure if you're an NCA Member? Check our Membership list. If you're not a member but could benefit from access to this research or other key industry resources, explore your Membership options.